Perennials for structure in the garden
During autumn we can embrace a new phase in the garden, when plants develop rich hues as their leaves change colour and their flower heads fade.
However, as winter approaches interest in the garden does not have to come to an end. Shrubs such as
Buxus sempervirens
,
Corylus avellana
'Contorta' and various
Cornus
are well known for offering excellent winter structure, providing height and bulk.
Nevertheless, herbaceous perennials can also bring structure to the garden and should not be underestimated for their value in the winter months.
The seed heads of herbaceous perennials are a great feature and can be sufficiently robust to last into winter. The late summer flowers on Hylotelephium (Sedum) fade to a warm brown enhancing their flat form. Biscuit brown seed heads of Phlomis russeliana persist throughout winter and look very attractive rising above the overwintering basal leaves. Rudbeckia and Heleniums, flowering in late summer in shades of orange and yellow, leave distinctive black seed heads, an excellent contrast to ornamental grasses. Left uncut during winter they also have the added benefit of providing food for birds, a habitat for wildlife and on a frosty winter morning look an absolute joy.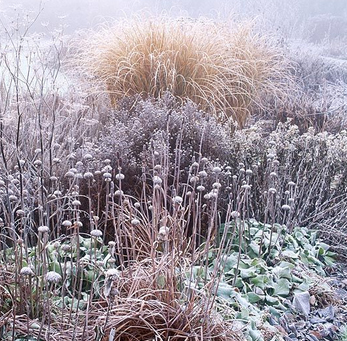 On the other hand, some perennials retain their leaves right through the winter. Bergenias are a fine example having leathery green leaves, some of which change to rich ruby or warm mahogany in the cold winter weather. Bergenia 'Bach', bred for its sugar pink bell-like flowers, is great for winter foliage colour. Bergenias are also very adaptable, growing in sun or semi-shade and in most soil conditions.
Similarly, some Epimediums keep their leaves through winter but are a good choice for dry shade. Again, leaves develop attractive shades of chestnut, mahogany and coppery reds in autumn, providing ground cover and delicate spring flowers in an array of different colours and shapes.
Heucheras, also low growing perennials, come in a wide range of foliage colours from lime green to deep plum, endure throughout the winter offering structure in the darkest months. Heucheras are content in many positions in the garden, tolerating both full sun and dry shade, but are less well suited to damp conditions.
John Brookes MBE, considered "the man who invented the modern garden" valued structure in the garden, following his background in architecture. He often used plants to provide this structure and incorporated strongly structural herbaceous perennials in his designs. You can visit his own garden, Denmans near Arundel in West Sussex, to see examples of herbaceous perennials used in this way.