Visit Us - Hardy's Cottage Garden Plants
We love our plants and also enjoy sharing our plant know-how with fellow gardeners. If you prefer to see and smell the flowers before you buy your plants, then our Nursery Shop is the place to visit...
Monday 19th July 2021 - We have updated our information for customers to reflect the new Government Guidance.
Before you visit, please read our guidance for customers and check our Opening Times , we look forward to seeing you!
Guidance for Customers
We want all of our customers to enjoy the time they spend with us and we also want everyone to feel safe, so in-line with the latest Covid-19 Guidance we ask our customers to -
If you are planning to visit us, please check the latest Government guidance to understand the restrictions that apply.

Do not visit us if you or any of your household are displaying symptoms of COVID 19.

Social distancing - Please remember to respect both other customers and our staff regarding safe distancing.

On arrival, please remember to social distance when you get in or out of your car. When paying for your plants you will see we have a queuing system in place; please join the queue and please keep apart from other visitors.

We are happy to provide advice or assistance to customers whilst maintaining social distance. Please be aware that we may not be able to load your car with items at this time.

You are free to use the hand sanitiser which we have supplied prior to entering the Nursery and again as you leave. (You may, of course, use your own hand sanitiser).

Track and Trace - NHS QR codes for the Test and Trace app are displayed for you to scan (check in) if you wish.

Face Coverings - Please respect other peoples right to wear face coverings. Our Nursery Shop/Plant Sales Area is outdoors and the wearing of face coverings is not currently mandatory in this area. However, if you wish to wear a face covering while browsing our plant selection or paying for your purchases, we will respect your right to do so.

If you do need to visit one of our toilets please follow the guidelines we have on display.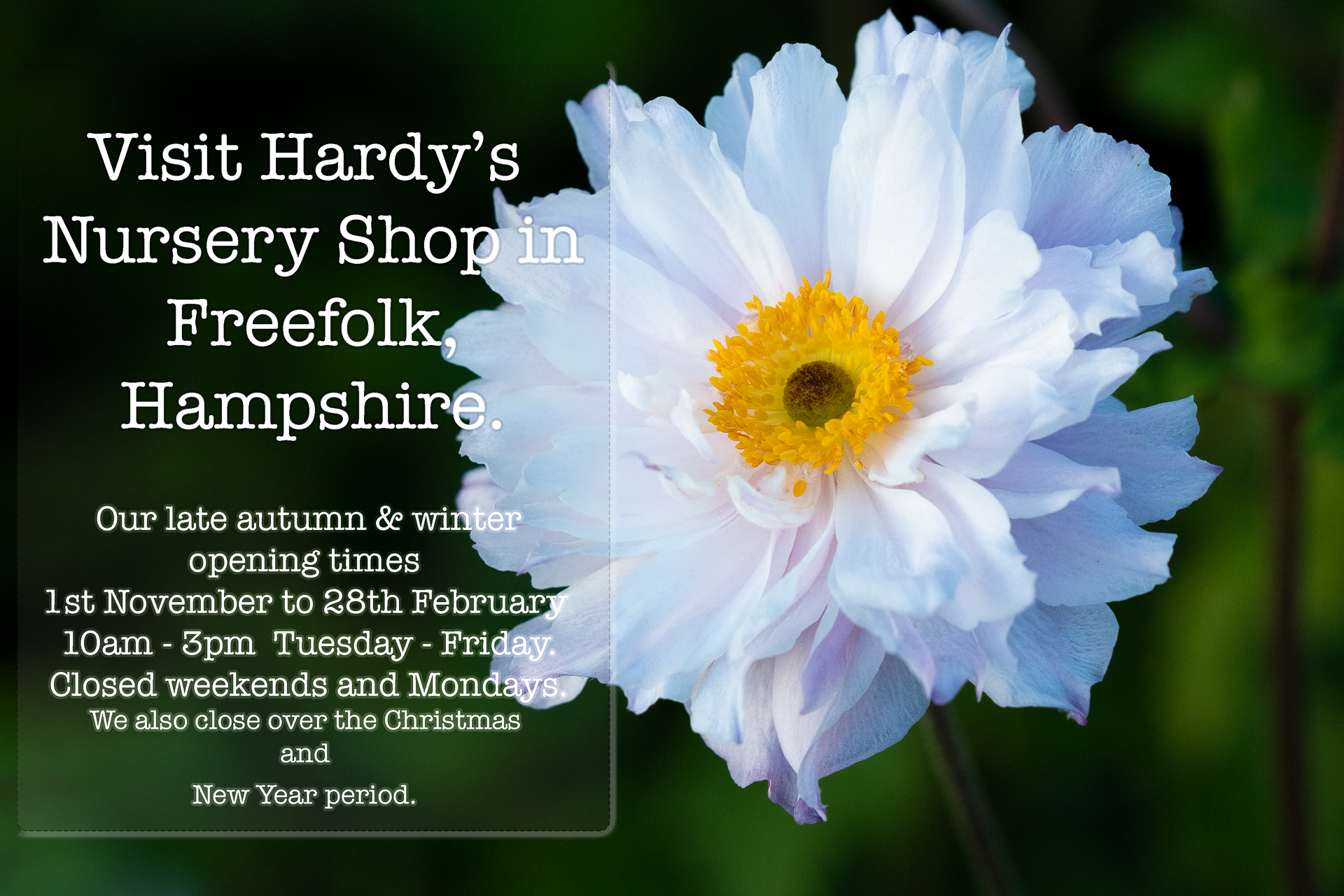 Click here to view all of our Opening Times
Events at the Nursery
If you have an event booking with us which you need to cancel due to changes in the restrictions, please contact us in advance for a refund.

If you are attending an event please use our NHS QR codes for the Test and Trace app which are displayed for you to scan (check in) OR sign in on arrival. All attendees details will be held for 21 days for NHS track and trace. After this date your information will be destroyed.

Our events will be held outdoors, undercover - please dress for the prevailing weather conditions.

All attendees will be contacted a few days prior to the event - if you are expecting to attend an event and have not received an email please contact us via

[email protected]

.
For further information about events please follow this link