Book Now to Visit Hardy's 'Festival Flower Garden' (extended to 6th June 2021)
As one of the highlights of the Candide Festival of Flowers on 17th May, Rosy and Rob Hardy will unveil what would have been their final display at RHS Chelsea Flower Show, instead of the exhibit within the Grand Pavilion, the display will be created as a walk-through 'Festival Flower Garden' in the grounds of the nursery in Hampshire.
*Book a relaxed, socially distanced time slot, available from 18th May until 6th June 2021 - Proceeds from ticket sales for this event will be donated to Naomi House & Jacksplace. You can donate here too https://www.justgiving.com/fundraising/hardysfestivalofflowers
*COVID allowing, tickets will be available with allocated time slots and to limited numbers.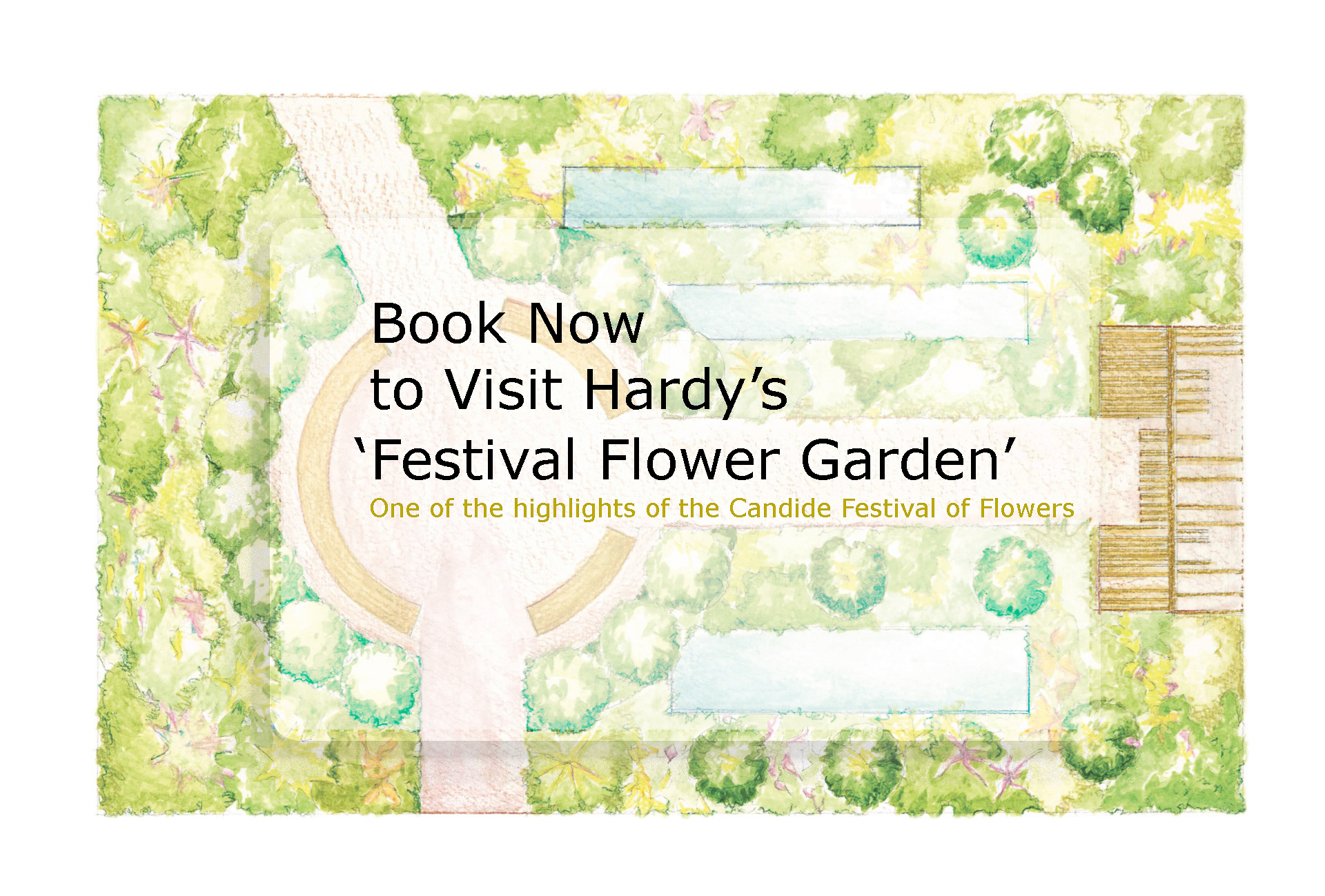 Book Now via Candide - Sponsors of Hardy's 'Festival Flower Garden'
Follow Our Story with Candide.... The show will go on for gold award-winning nursery Hardy's Cottage Garden Plants! You could be one of the first people to see what would have been Hardy's final and largest display at the Chelsea Flower Show. As part of Candide Festival of Flowers, gardener and broadcaster, Adam Frost, will be conducting the opening of Hardy's Cottage Garden Plants' festival garden.
---
May is set to be bloomin' marvellous with Candide Festival of Flowers!
We're long overdue a gardenia party!
With the vaccine roll-out continuing apace and the weather starting to warm up, Candide invite you to rejoice with them in all-things gardens and flowers between the 1st and 6th June 2021 for Candide Festival of Flowers; a celebration of plants, pollinators and people!
"The Candide Festival of Flowers is free and online, making it accessible to any plant lover. For a month full of floral festivities, keep your iris peeled a month-long supply of flower-packed videos, guides and gardens, and hear from award-winning plant nurseries. From flower arranging to cooking-up floral recipes, we're not dande-lion when we say the Festival of Flowers cannot be missed!"
Follow the Hardy's Cottage Garden Plants 'Festival Garden', in what would have been their final farewell to RHS Chelsea.

The Festival Garden Planting List
ALCHEMILLA sericata 'Gold Strike'
ALCHEMILLA venosa
ALLIUM schoenoprasum
ALLIUM stipitatum 'Mount Everest'
Allium - Wild Garlic
AMMI majus
ANCHUSA azurea 'Loddon Royalist'
ANEMONE sylvestris
ANGELICA archangelica
ANTHRISCUS sylvestris (Cow Parsley)
AQUILEGIA 'Hensol Harebell'
AQUILEGIA vul.var stel.'Black Barlow'
AQUILEGIA vulgaris var. stellata 'Ruby Port'
ARTEMISIA 'Powis Castle'
ARTEMISIA ludoviciana 'Valerie Finnis'
ASPHODELINE lutea
AURINIA saxatilis
BAPTISIA australis
BAPTISIA 'Chocolate Chip'
BAPTISIA 'Solar Flare' (Prairieblues Series)
CALENDULA 'Indian Prince'
CAMPANULA takesimana 'Elizabeth'
CENTAUREA montana 'Alba'
CENTAUREA montana 'Purple Heart'
CENTAUREA montana 'Joyce'
CENTAUREA triumfettii subsp.stricta
CERINTHE major 'Purpurascens'
CHAEROPHYLLUM hirsutum 'Roseum'
CIRSIUM rivulare 'Atropurpureum'
CIRSIUM rivulare 'Trevor's Felley Find'
CORYDALIS elata
DIANTHUS 'Blushing Star' WP19 NAM01
DIANTHUS 'Cherry Burst' WP19 MOU01
DIGITALIS purpurea 'Sutton's Apricot'
DIGITALIS purpurea f. albiflora
DISPORUM sessile 'Robustum Variegatum'
DORONICUM x excelsum 'Harpur Crewe'
Elaeagnus 'Quicksilver'
EPIMEDIUM grandiflorum 'Lilafee'
EPIMEDIUM pubigerum
EPIMEDIUM x versicolor 'Sulphure
EPIMEDIUM x warleyense 'Orangekonigin'
ERYNGIUM x zabelii 'Neptune's Gold'
EUPHORBIA cyparissias 'Fens Ruby'
EUPHORBIA palustris
FRAGARIA (Wild Strawberry)
GERANIUM phaeum 'Alec's Pink'
GERANIUM phaeum var. phaeum 'Samobor'
GERANIUM macrorrhizum 'Ingwersen's Variety'
GERANIUM 'Orion'
GEUM 'Bell Bank'
GEUM 'Red Wings'
GEUM rivale 'Cream Drop'
GEUM 'Scarlet Tempest' MACGEU001
GEUM 'Totally Tangerine'
GEUM 'Bremner's Nectarine'
GEUM 'Lisanne'
GEUM 'Nonna'
GEUM triflorum
GLANDULARIA 'Margarets Memory ' NEW
GLANDULARIA 'Seabrook's Lavender' SEALAV
GYMNASTER savatieri
HAKONECHLOA macra
HAKONECHLOA macra 'Aureola'
Hedge - ILEX crenata
HEUCHERA 'Obsidian'
HEUCHERA 'Strawberry Swirl'
HOSTA 'Eric Smith' (Tardiana Group)
HOSTA 'Halcyon' (Tardiana Group)
HOSTA 'Cherry Berry'
HOSTA 'Purple Heart'
IRIS 'Jane Phillips' (TB)
IRIS 'Sable' (TB)
IRIS 'Kent Pride' (TB)
IRIS 'Tropic Night'
KNAUTIA dipsacifolia
KNAUTIA arvensis
LAMIUM orvala Dwarf Form
LATHYRUS niger
LATHYRUS vernus
LEUCANTHEMUM vulgare 'Maikonigen'
LIBERTIA chilensis
LUPINUS 'My Castle' (Band of Nobles Series) and LUPIN 'Morello Cherry'
LUZULA nivea
LUZULA sylvatica var.
LYCHNIS flos-cuculi 'White Robin'
LYCHNIS flos-cuculi
MAIANTHEMUM racemosum (SMILACINA)
MAIANTHEMUM stellatum (SMILACINA)
MAIANTHEMUM bifolium
MAIANTHEMUM paniculatum
MATHIASELLA bupleuroides 'Green Dream'
MELITTIS melissophyllum Alba
MELITTIS melissophyllum 'Royal Velvet Distinction'
MISCANTHUS sin. var. conden. 'Cosmopolitan'
MYRRHIS odorata
ONOCLEA sensibilis
PAEONIA emodi
PERSICARIA bistorta 'Superba'
PHLOX divaricata 'Clouds of Perfume'
PHLOX divaricata 'White Perfume'
PHLOX divaricata subsp. laphamii 'Chattahoochee'
PHYSOCARPUS opulifolius 'Lady in Red' TUILAD
PLANTAGO media
POLEMONIUM 'Lambrook Mauve'
POLYGONATUM spp
POLYGONATUM x hybridum
POLYGONATUM x hybridum 'Striatum'
POTENTILLA recta 'Warrenii'
POTENTILLA palustris
PRIMULA japonica 'Miller's Crimso
PRIMULA japonica 'Apple Blossom'
PRIMULA pulverulenta (Pf)
RANUNCULUS aconitifolius
RANUNCULUS Rococo Yellow ROCYELLOW
RHEUM 'Ace of Hearts'
RHEUM palmatum Atropurpureum
RHEUM tanguticum
RODGERSIA podophylla
RUBUS arcticus
RUBUS arcticus subsp.stellarcticus 'Sofia"
SALVIA nemorosa 'Caradonna'
SALVIA Caradonna Pink Inspiration
SANGUISORBA minor
SAXIFRAGA umbrosa
SEMIAQUILEGIA Australian Form
SEMPERVIVUM spp
SILENE dioica 'Rollie's Favorite'
TELLIMA grandiflora Rubra Group
THALICTRUM 'Chantilly Lace'
TIARELLA 'Pink Skyrocket'
Trees - Betula utilis var. jacquemontii
TROLLIUS 'Dancing Flame'
TROLLIUS x cult. 'Taleggio' (Cheddar)
UVULARIA perfoliata
VALERIANA pyrenaica
VERONICA gentianoides Dark Form
VERONICA gentianoides 'Tissington White'
VIOLA 'Avril Lawson' (Va)
VIOLA cornuta Alba Group
ZIZIA aurea