Rosy's Plan for a White Border - Sun or Part Shade B
'White Gardens' never seem to go out of fashion. Whilst design trends come and go, there is something very elegant, classical and yes refreshing about a 'white garden' - all the tones acting in harmony, the whole being so much more than the sum of its parts.
If you have ever aspired to create one in your garden, Rosy has designed a border that can be easily replicated and built upon to inspire your imagination. The 12 plants included will all thrive in a partially shaded or sunny spot, i.e. about 4 - 6 hours of sun a day and a reasonable soil, which means fairly fertile, moist but free draining.
As with our other plans, you can scale the area and quantity of plants up or down to suit your garden. If you need help with this please contact us, we would be delighted to help.
Click here for a printable version of Rosy's White Border Plan - Sun or Part Shade
The Plan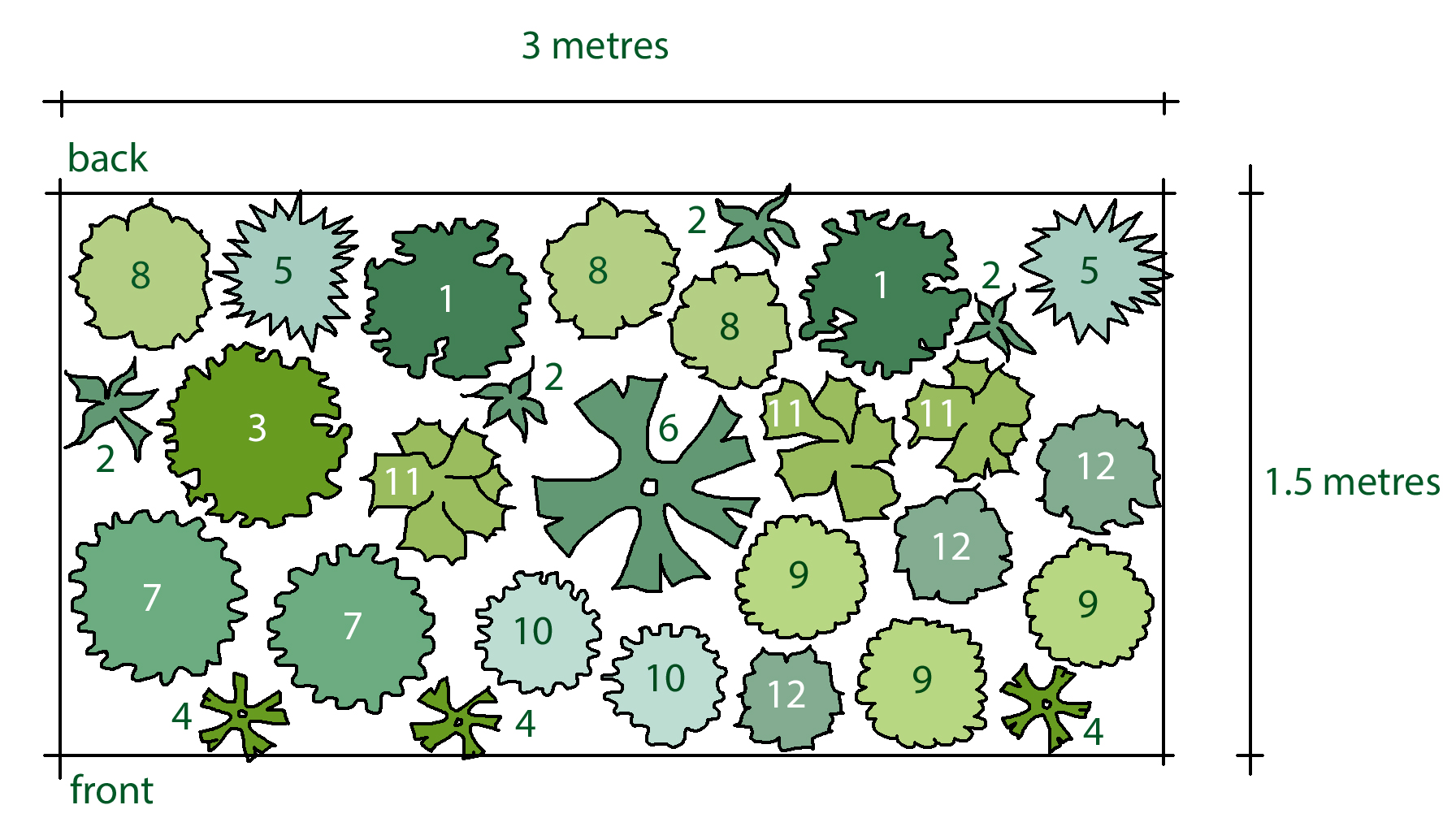 AGERATINA altissima 'Chocolate' (EUPATORIUM rugosum 'Chocolate' (1) - frothy white flowers in autumn over attractive bronzed purple foliage
ALLIUM stipitatum 'Mount Everest' (2) - large fluffy globe flowers in early summer followed by stunning seedheads
EUONYMUS fortunei 'Emerald Gaiety' (3) - variegated evergreen shrubs for year round structure - can be clipped to shape
IBERIS gibraltarica 'Betty Swainson' or IBERS sempervirens (4) - clusters of pure white flowers in spring over an ankle-high carpet of neat evergreen foliage
MISCANTHUS sinensis 'Morning Light' (5) - fine grass with silver edged foliage - looks wonderful illuminated by the sun
PAEONIA emodi or PAEONIA lactiflora 'Duchesse de Nemours' (6) - add a gorgeous white paeony as an early summer statement plant and va va voom!
PERSICARIA 'Alba Junior' (7) - masses of slender spires of white flowers from late summer into autumn and good autumnal foliage
PHLOX paniculate 'David' or PHLOX paniculate 'Mount Fuji' (8) - elegant, tall white spires of flowers in summer, good foliage
SCABIOSA 'Kudo White' (Kudo Series) (9) - white pincushion flowers produced over a long period in summer, neat foliage
STACHYS byzantina 'Silver Carpet' (10) - spreading carpet of tactile and furry, grey-green leaves, great foil for other plants
SYMPHYOTRICHUM latiflorum 'Chloe' (11) - masses of small pinky-white flowers in autumn
VERONICA gentianoides 'Tissington White' (12) - spires of pure white flowers in spring over an evergreen carpet of neat rosettes