Rosy's planting plan for a Shady Border
The plants Rosy has chosen for this border will all thrive in a moderately good, free-draining soil in semi-shade. She has picked 15 different varieties to give interest throughout the year. In some cases she has just suggested a plant Genus leaving you free to pick your favourite variety. Rosy's design is for a 3 meter x 1.5 meter border but if you have a much larger border to fill you could increase the number of plants in each group OR conversely if you have a much smaller border you could halve the number of plants in each group.
The border has been designed to be viewed from three sides - view from the front, left and right hand sides. It could be backed by either a hedge, trees or a tall fence or wall. Shady borders reach their peak flowering time in spring when the trees or shrubs which create shade during summer have not yet come into full leaf.
Click this Link For a Printable Version Of Rosy's planting plan for a Shady Border
Click this link for Rosy's Sunny border
The Plan
Your Border in Spring
In spring EPIMEDIUM x rubrum (6) has pretty pink & white flowers held above the newly emerging fresh green foliage. BRUNNERA (4) From spring to early summer sprays of tiny blue Forget-me-not-like flowers are held aloft on dark stems above beautiful silver or green heart-shaped leaves.
GERANIUM phaeum 'Album' (7) has small, white, flat flowers that gently nod their heads. HAKONECHLOA (9) commonly known as Japanese forest grass, starts to emerge creating fountain-like clumps of tactile, narrow green or variegated foliage. HELLEBORUS 'Spring Velvet' (10) starts to flower in early spring, its soft pink petals are finely speckled with red.
MAIANTHIMUM paniculatum (13) produces fragrant clusters of small, starry cream flowers carried on the ends of arching stems, delicately scented this plant is also a visual treat for a shady area of the garden. POLYGONATUM (14) commonly know as Solomon's Seal Polygonatum's arching stems bear dainty cream tubular flowers with green tips. PULMONARIA 'Samurai' (15) forms low clumps of narrow, dagger-like foliage, blotched metallic grey when young, the patches spread until the leaf is almost completely silver bar a slender green edge. The bell-shaped flowers produced in spring are similarly interesting, opening blue and pink before maturing to vivid cobalt blue.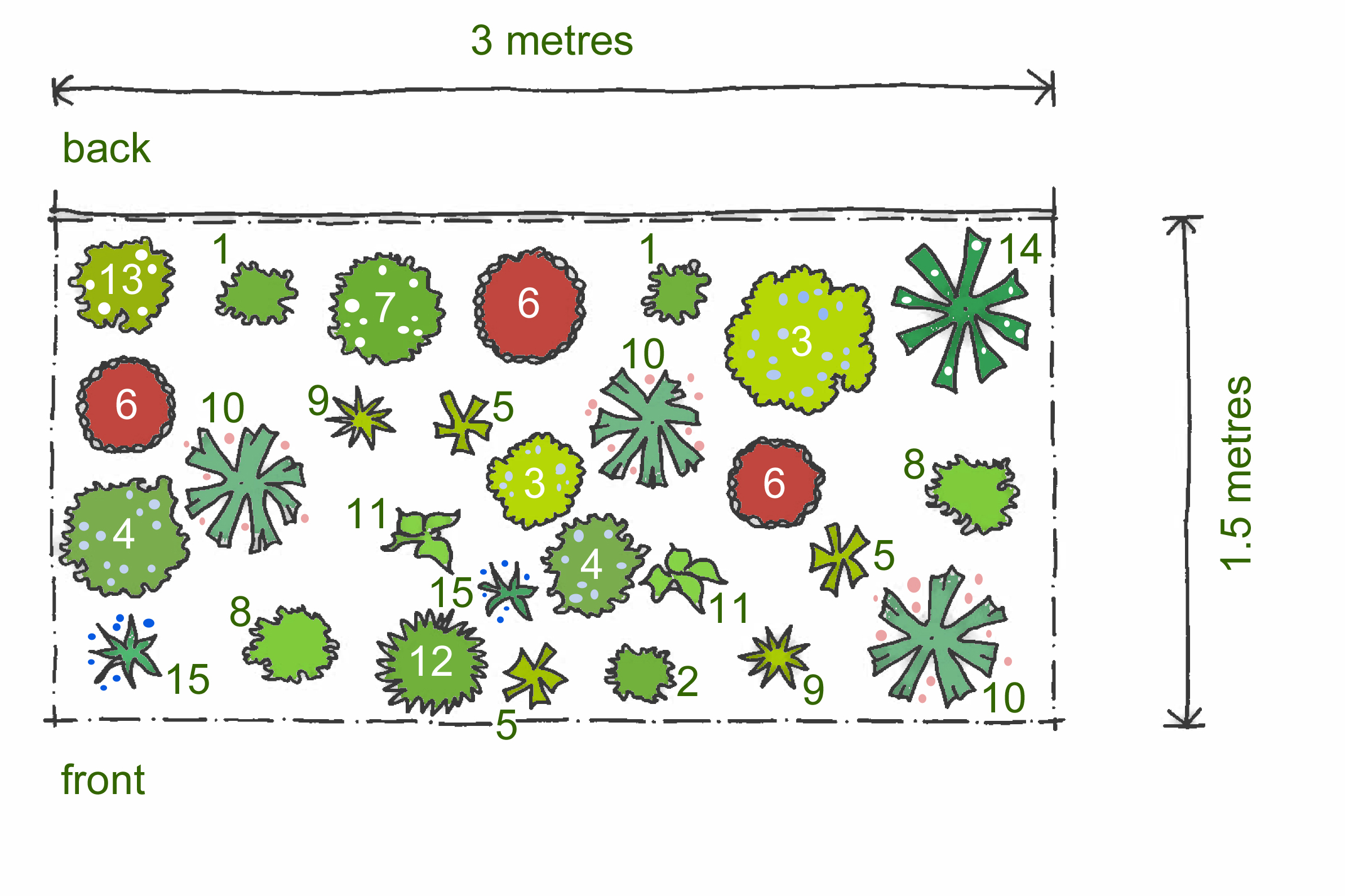 Your Border in Summer
ALSTROMERIA psittiacina 'Royal Star' (1) has the same striking dark purple-red flowers as Alstroemeria psittacina, but combined with a wonderful variegated foliage of bright green thinly edged with white. This foliage creates good clumps for at least a month before the flowers appear, extending the plant's season of interest. ALSTROMERIA 'Inca Vito' (2) Dramatically large flowers appear on this tidy compact plant all through the summer, making it very useful for adding punches of blood red to the shady border in summer. GERANIUM 'Rozanne' (8) carries masses of large, vivid violet-blue saucer-like flowers with distinct white centres and star-like reddish-purple veins over spreading mounds of dark green foliage. This is the longest flowering Geranium we know, lasting all summer into the autumn. HOSTA (11) are mainly grown for their fine foliage but during summer lily like flowers appear over the heart-shaped foliage.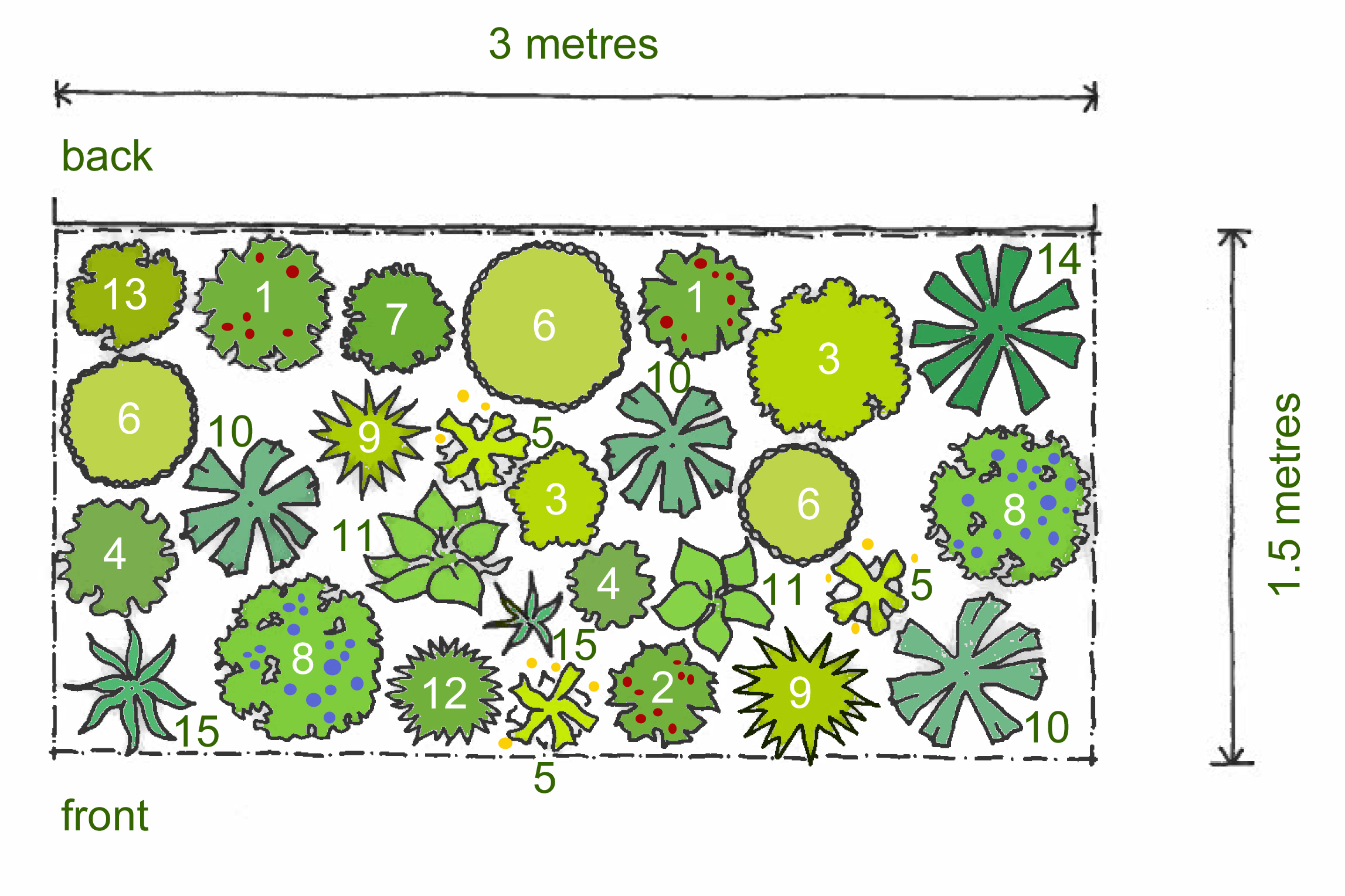 Your Border in Autumn
AMSONIA illustris (3) The foliage looks good all through the year turning vivid yellow in autumn with purple stems, further enhanced by dark dangling pea-like seed pods. LIRIOPE muscari (12) Commonly known as Big Blue Lily Turf, this perennial forms a clump of dense arching leathery grass-like evergreen foliage. In autumn above the foliage waxy purple flower spikes appear followed by black berries. From late-summer into autumn MAIANTHIMUM paniculatum (13) bears attractive clusters of creamy white fruits at the tips of its arching stems.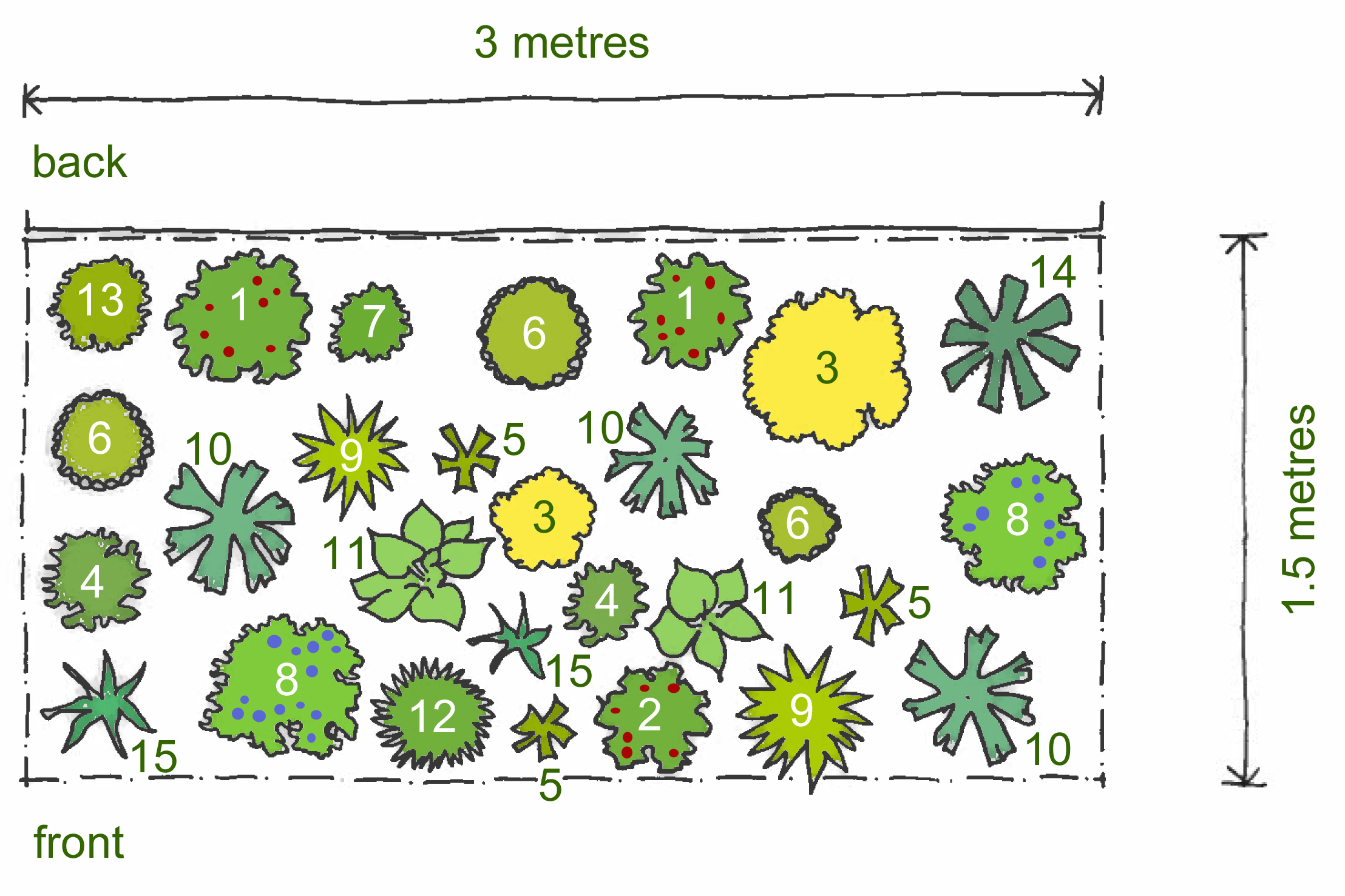 Your Border in Winter
EPIMEDIUM x rubrum (6) is evergreen, in the winter months the foliage is still a feature. HELLEBORUS 'Spring Velvet' creates mounds of green foliage throughout the winter months (10) HAKONECHLOA (9) A fantastic plant for providing movement, sound and structure in the garden over several seasons, including winter when its faded foliage stays upright and rustles in the breeze. Add winter flowering corms and bulbs to extend the season of interest such as CYCLAMEN coum and GALANTHUS (Snowdrops)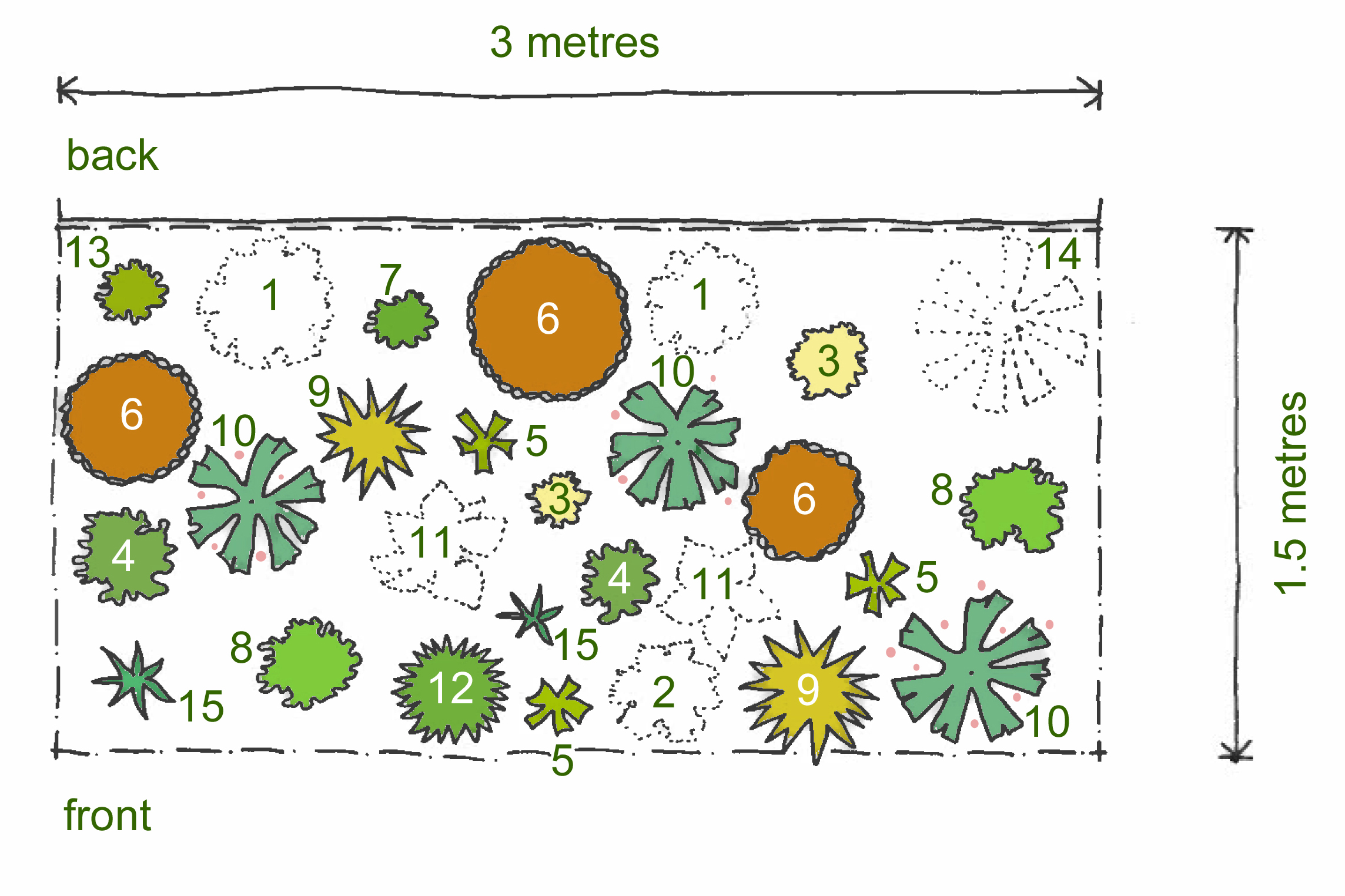 1. ALSTROMERIA psittiacina 'Royal Star' x 2 Please note these are best planted in Spring
2. ALSTROMERIA 'Inca Vito' x 1 Please note these are best planted in Spring
3. AMSONIA illustris x 2
4. BRUNNERA x 2
5. DIGITALIS ferruginea x 3
6. EPIMEDIUM x rubrum x 3
7. GERANIUM phaeum 'Album' x 1
8. GERANIUM 'Rozanne' x 2
9. HAKONECHLOA x 2
10. HELLEBORUS 'Spring Velvet' x 3
11. HOSTA x 2
12. LIRIOPE muscari x 1
13. MAIANTHIMUM paniculatum x 1
14. POLYGONATUM x 2
15. PULMONARIA 'Samurai' x 2