Rosy's Planting Plan for a Drought Resistant Border
Recently our summers have proved to be hot, sometimes very hot and dry, with little rain to nourish the garden. Some plants have naturally adapted to develop resilience and drought tolerance by protecting themselves from the sun, for example through silver or blue-grey leaves with tiny hairs or foliage with a tough, waxy surface.
The 13 plants included in Rosy's plan for a drought resistant border will all thrive in full sun in a well drained soil and can cope with periods of little rain once they are established. Although shown within a rectangular 'border' area, the same plants would also suit a gravel garden by pulling groups of plants apart to introduce walkways through them.
As with our other plans, you can scale the area and quantity of plants up or down to suit your garden. If you need help with this please contact us, we would be delighted to help.
Click here for a printable version of Rosy's Drought Resistant Border
The Plan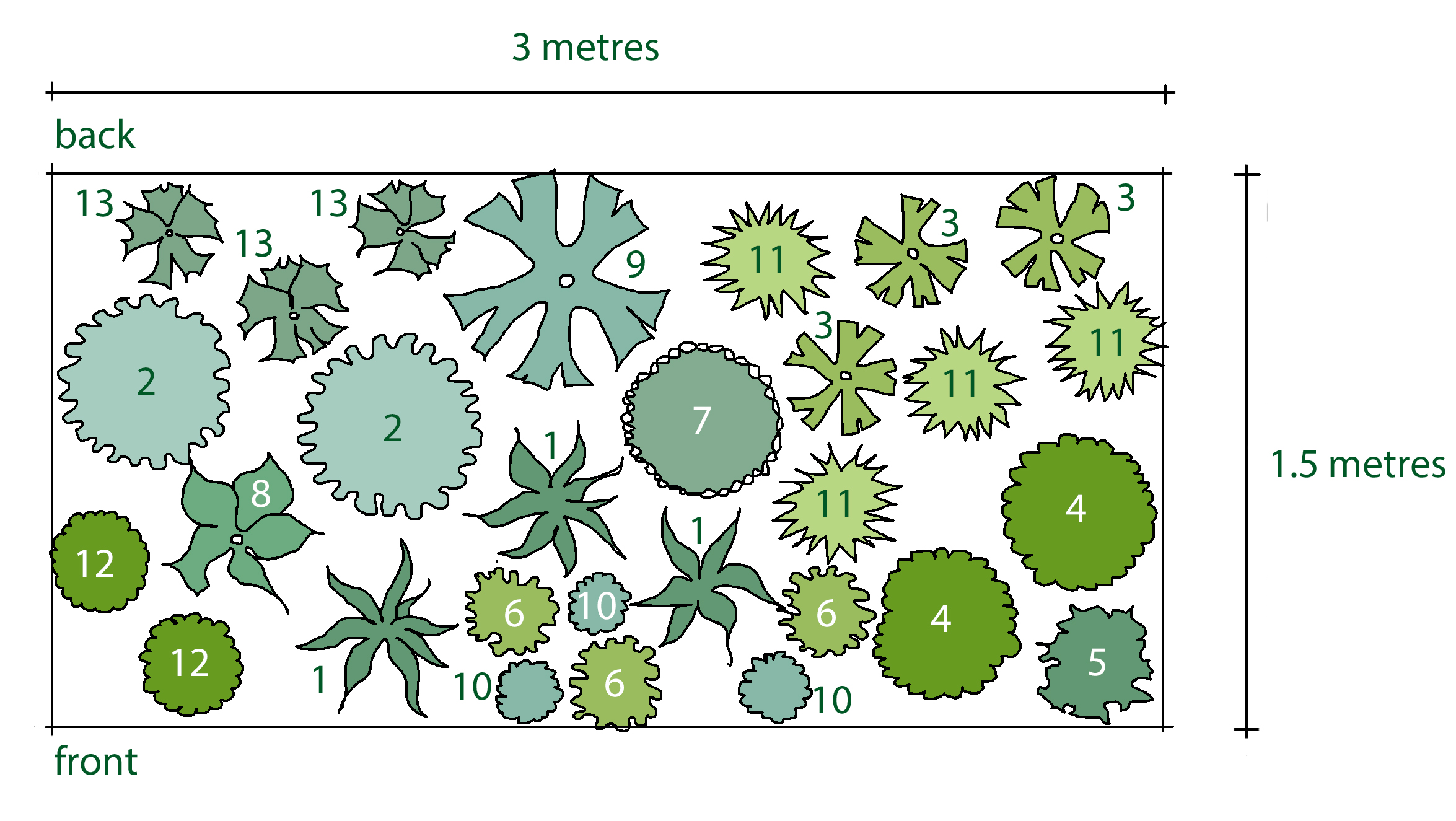 AMARINE 'Anastasia' (1) - vibrant pink flowers in autumn arranged like the spokes of a wheel on upright stems - bit of a showstopper Or try any AMARINE or NERINE...
BALLOTA pseudodictamnus (2) - medium height mounds of tactile grey-green foliage with small pale pink flowers in summer, good for planters too Or try PHLOMIS grandiflora 'Lloyd's Silver'
OENOTHERA 'Rosy Shimmers' (3) - airy and graceful plant with large pale pink flowers and deeper reddish-pink veining from mid summer into autumn Or try any OENOTHERA vars except O.'Ruby Ruby' , VERBENA bonariensis
HYLOTELEPHIUM 'Matrona' (4) - clusters of small pale pink flowers in autumn over waxy bronzed foliage - attractive seed heads through winter Or try EUPHORBIA 'Blue Haze'
IBERIS sempervirens (5) - a spreading carpet of pure white flowers in late spring/early summer over dark evergreen foliage Or try ARTEMISIA schmidtiana 'Nana'
IPHEION 'Alberto Castillo' (6) - masses of dainty white honey-scented flowers during late winter and early spring - summer deciduous Or try any STACHYS or VERBENA rigida
LYCHNIS coronaria 'Gardeners World' (7) - vivid magenta double flowers on multi-branching stems in summer - does not self-seed
MORINA longifolia (8) - white flowers fading to pink then crimson over glossy, thistle-like foliage from July through August - will wander as it self seeds
SALVIA 'Blue Spire' (9) - 'Russian Sage' - masses of small pale blue flowers carried on white stems in autumn - fragrant with good winter interest
PULSATILLA vulgaris 'Rode Klokke' (10) - stunning red form of Pasque Flower - crimson red petals and finely dissected foliage Or try any PULSATILLA , HYLOTELEPHIUM cauticola 'Coca-Cola' or HYLOTELEPHIUM cauticola 'Lidakense'
STIPA tenuissima (11) - 'Mexican Feather Grass' - a fountain of fine green grass fading to buff in autumn, staying upright through winter - very tactile Or try CAREX comans bronze-leaved , FESTUCA glauca 'Elijah Blue'
TEUCRIUM x lucidrys (12) - bright pink tubular flowers through summer set off by shiny evergreen foliage - this shrub can be clipped to form a low hedge
VERBASCUM 'Chantilly' (13) - delicate pale cream flowers open from the base of the stem upwards from mid to late summer - neat basal foliage Or try VERBASCUM blattaria f.albiflorum ,
Sadly we are unable to guarantee having all of the plants available all of the time via mail order. However, if you are visiting the Nursery Shop we may be able to supply suitable substitutes for the plants which you are missing, equally we may actually have the plants listed on Rosy's plans as we often have a wider range of plants available via the Nursery Shop than we are able to offer via mail-order.
You may also be interested in ...
Rosy's planting plan for a Sunny Border
Rosy's planting plan for a Shady Border
Rosy's Planting Plan for a Border with Moisture Retentive Soil