Rosy's planting plan for a Sunny Border
The plants Rosy has chosen for this border will all thrive in a moderately good, free-draining soil in full sun. She has picked 14 different varieties to give interest throughout the year. In some cases Rosy has just suggested a plant Genus leaving you free to pick your favourite variety. Rosy's design is for a 3 meter x 1.5 meter border but if you have a much larger border to fill you could increase the number of plants in each group OR conversely if you have a much smaller border you could halve the number of plants in each group.
The border has been designed to be viewed from three sides - view from the front, left and right hand sides.
Click this link for a Printable version of Rosy's Sunny Border Plan
The Plan
Your Border in Spring
In April the long flowering GEUM 'Scarlet Tempest (5) & GEUM 'Totally Tangerine' (6) start to bloom, these plants will add splashes of red and orange to your border for months on end. Plant early spring flowering bulbs to extend your season of colour.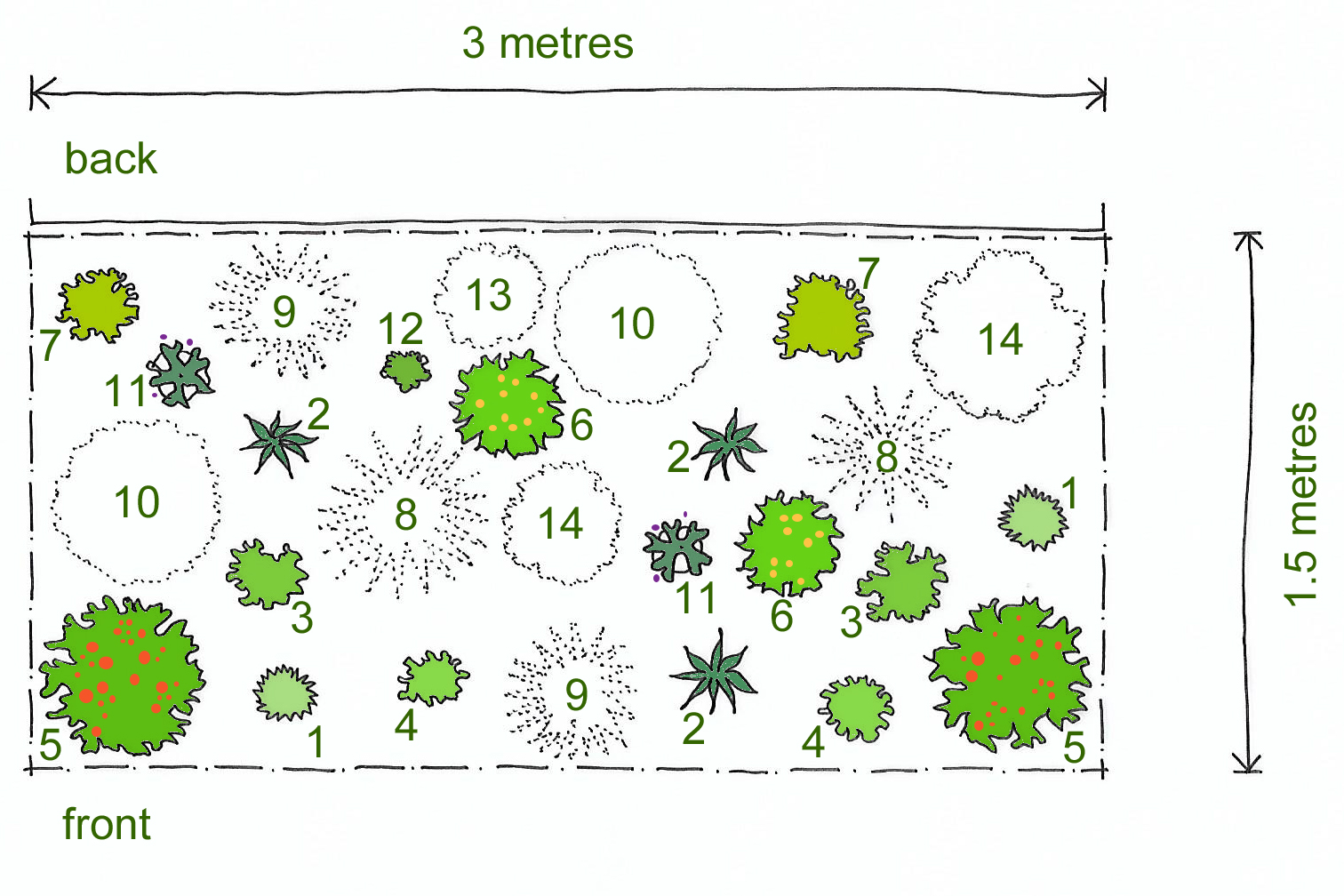 Your Border in Summer
During the summer months your border will become a riot of colour. ANTHEMIS tinctoria E.C Buxton (1) produces large soft lemon yellow daisies which jostle with each other on strong stems above the delicate ferny green foliage. GAURA 'Rosy Shimmers' (2) starts to bloom, its large pale pink flowers held high on upright stems which sway in the breeze.
Hardy Geraniums are a 'must have' for any garden, if you cut GERANIUM 'Brookside' (3) down after its first flush of flowers it will burst back into growth and re-bloom. GERANIUM sanguineum var. striatum (4) forms a carpet of finely cut dark green leaves studded with delicate upward-looking pale pink flowers with darker pink veins, perfect for the front of any sunny border.
SALVIA nemorosa 'Caradonna' (11) carries spikes of striking violet blue flowers on purple black stems , it will flower its socks off all summer into autumn. VERONICASTRUM virginium 'Diane' (14) commonly known as Culver's Root, this tall perennial produces slender spikes of pure white flowers during late summer. LEUCANTHEMUM x superbum 'Phyllis Smith' (7) has large white shaggy daisy flowers, it is a classic cottage garden plant, you may wish to choose another LEUCANTHEMUM from our range.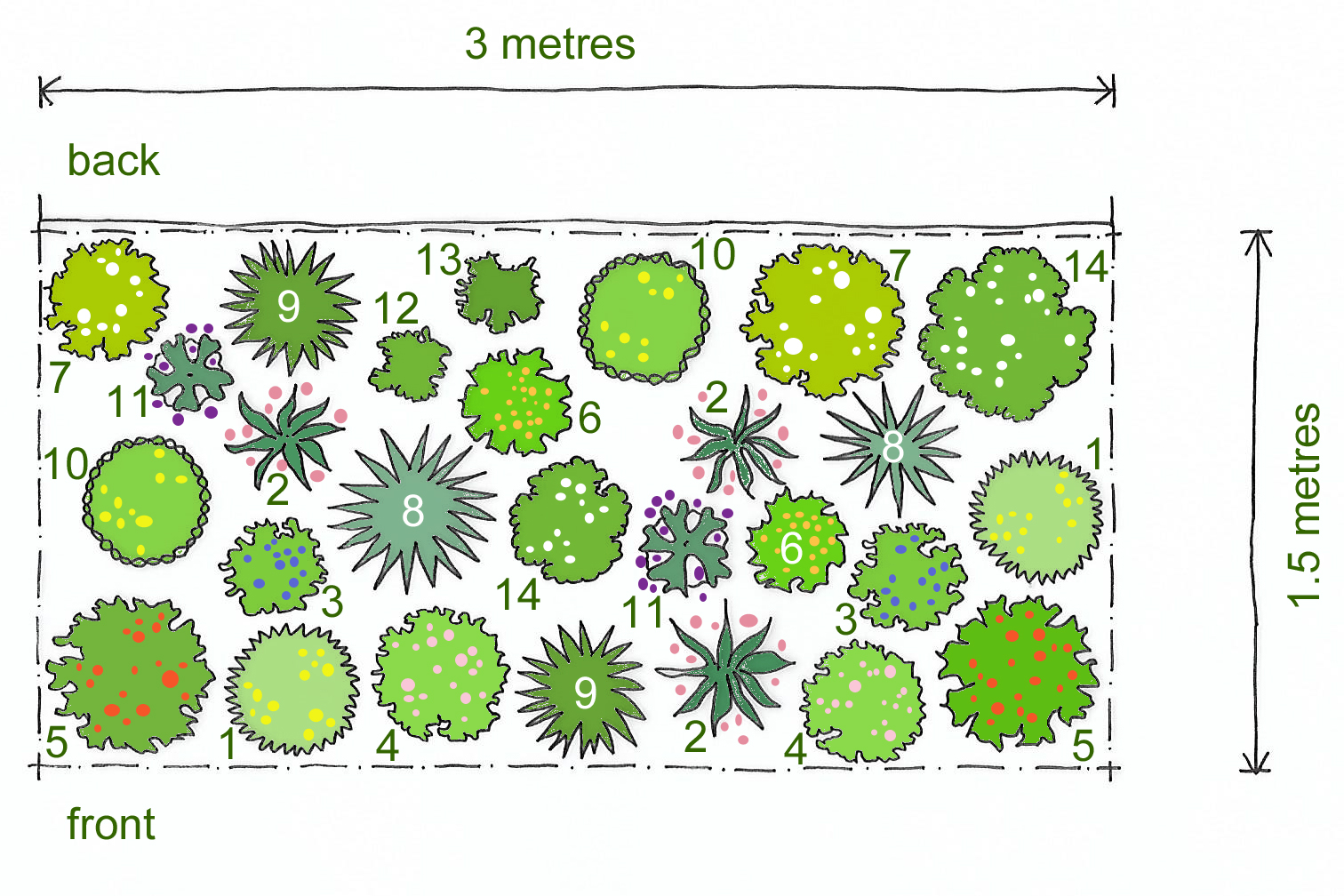 Your Border in Autumn
During autumn SYMPHYOTRICHUM 'Little Carlow' (cordifolius hybrid) (12) produces clouds of small, vivid, violet-blue daisies with bright yellow centres. VERNONIA (14) commonly know as Ironwood adds height to the back of the border, this is a sturdy perennial which won't require any staking.
RUDBECKIA fulgida var speciosa (10) starts to flower in late-summer and continues into autumn, its bright yellow flowers each have a dark brown central cone, forming the glorious flower we commonly know as Black-eyed Susan.
Grasses are invaluable for adding structure to borders, in autumn MISCANTHUS sinensis 'Morning Light' (8) starts to produce feathery plumes of flower . MOLINIA caerulea subsp caerulea heidebraut (9) produces tall, deep purple black flower spikes which emerge from tuft-like clumps of narrow upright foliage and gently fade to yellow-orange in autumn, Rosy uses this grass at the front of the border where its airy flower stems can be seen through.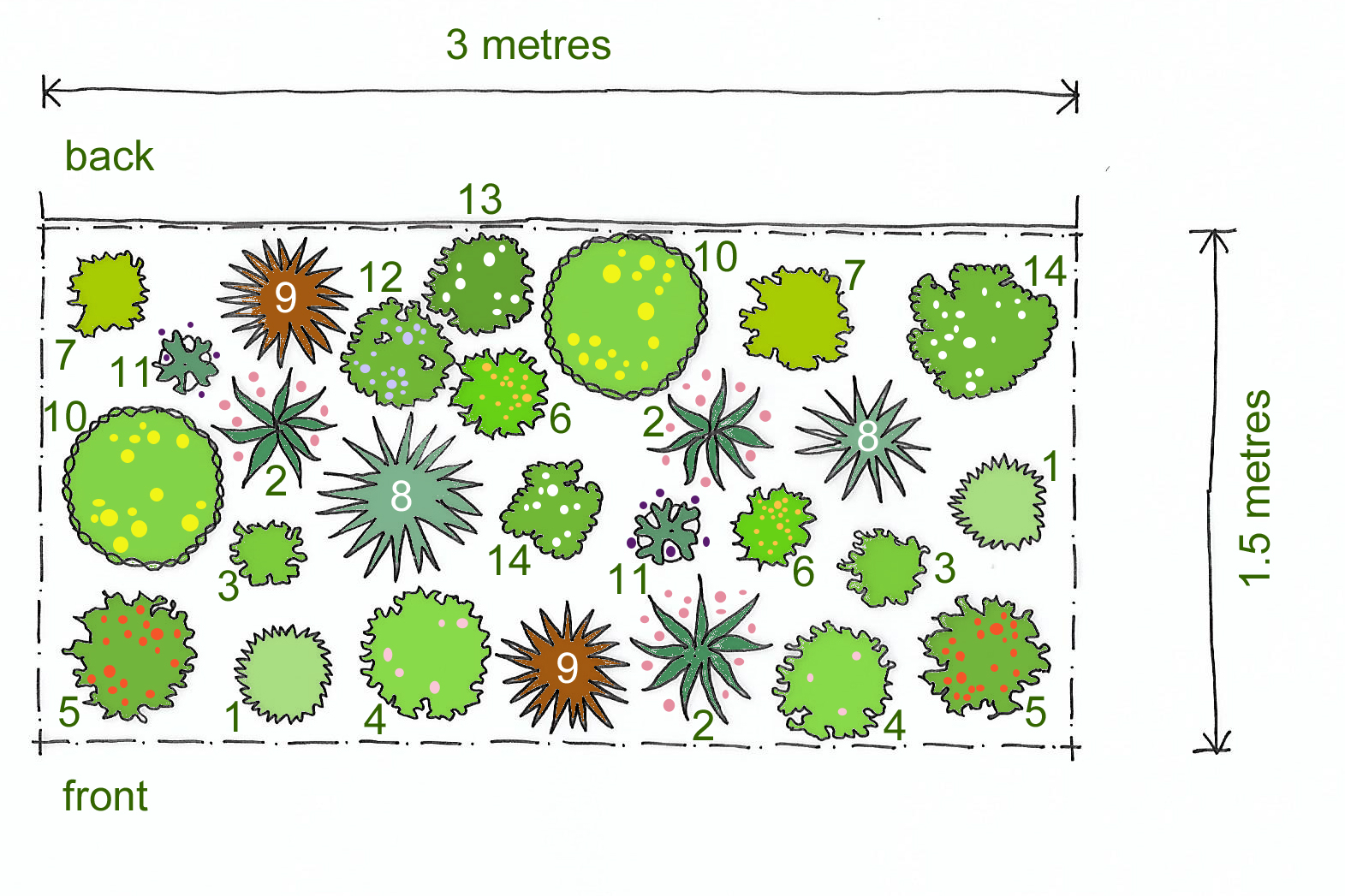 Your Border in Winter
The grasses within the border ( MOLINIA caerulea subsp caerulea heidebraut (9) and MISCANTHUS sinensis 'Morning Light' (8) ) remain upright over winter and looks wonderful when covered in frost.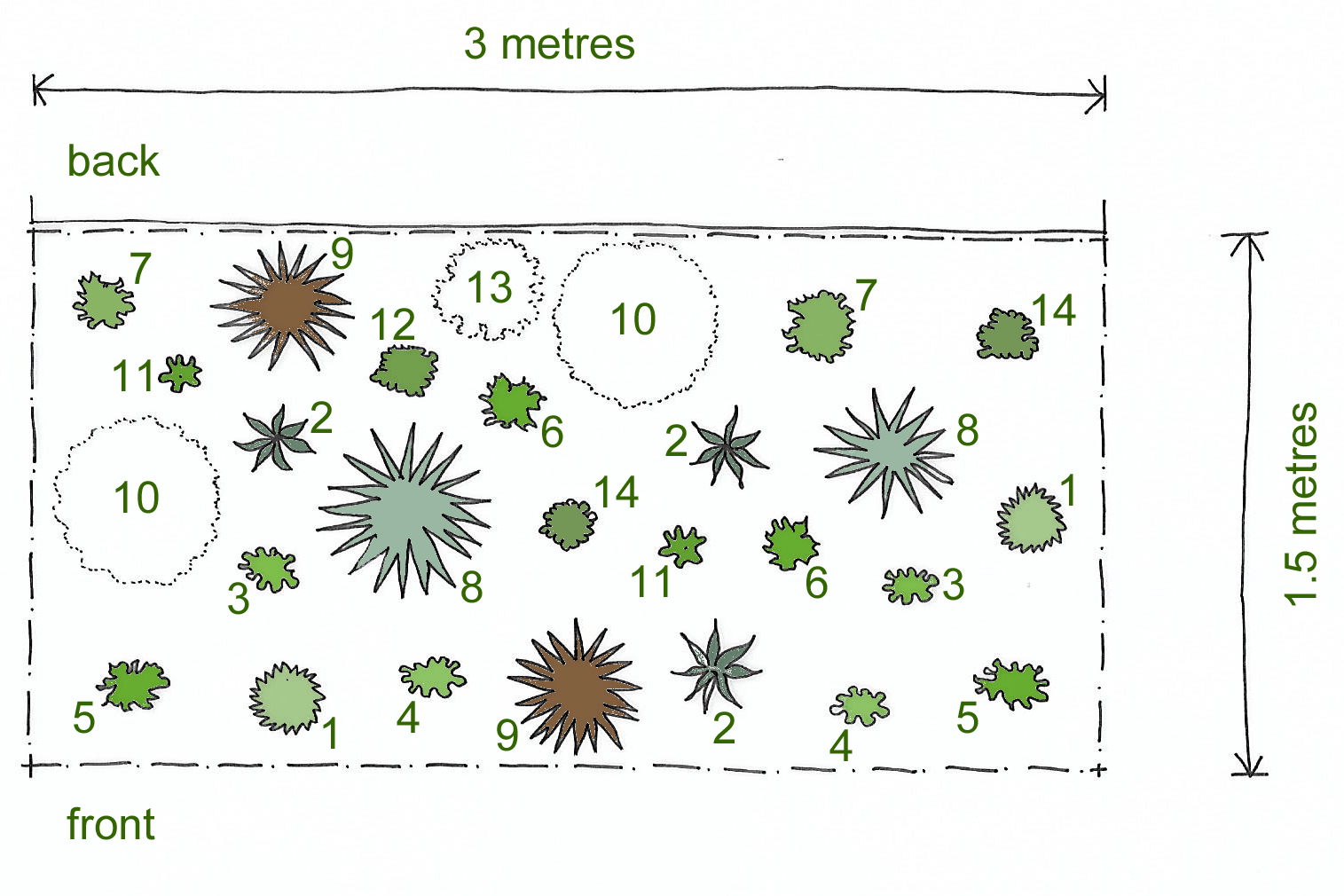 The Plant Key
1. ANTHEMIS tinctoria E.C Buxton x 3
2. GAURA 'Rosy Shimmers' x 3 Please note these are best planted in Spring
3. GERANIUM 'Brookside' x 2
4. GERANIUM sanguineum var. striatum x 2
5. GEUM 'Scarlet Tempest' x 2
6. GEUM 'Totally Tangerine' x 2
7. LEUCANTHEMUM x 2
8. MISCANTHUS sinensis 'Morning Light' x 2
9. MOLINIA caerulea subsp caerulea heidebraut x 2
10. RUDBECKIA fulgida var speciosa x 2
11. SALVIA nemorosa 'Caradonna' x 2
12. SYMPHYOTRICHUM 'Little Carlow' (cordifolius hybrid) x 1
13. VERNONIA x 1
14. VERONICASTRUM virginium 'Diane' x 2